Overview
Polycarbonate corrugated sheet is a high polymer with superior impact resistance, transparency and light transmission. Its excellent mechanical, thermal and electrical properties make it an outstanding material for polycarbonate roofing and polycarbonate skylight in a wide range of construction, architecture, agriculture, DIY project or any application designed to improve daylighting.
Aesthetics
Polycarbonate corrugated sheet and polycarbonate roofing or polycarbonate skylight are essential in the buildings. Lyon Plastic as a professional corrugated sheet and polycarbonate corrugated sheet supplier combines esthetics and functions and makes customization available for perfect coordination with the building materials besides the esthetic and durable attributes brought by extrusive surface on the coating of UV absorbers and precise sizes of waves.
Main Benefits
Impact resistance: virtually unbreakable
Transparent: up to 92% LT
Weather and UV resistant
Wide service temperature range
High flammability rating
UV Protection
By using high density UV-absorbing agent in thickness of 0.04mm which is evenly coated on the surface of polycarbonate corrugated sheet via co-extrusion process, our polycarbonate corrugated sheet has been stabilized to avoid yellowing, particularly in the range of UV wave length of 290nm~400nm, while less than 2.4% UV ray penetrability within wave length 300nm. Thus the polycarbonate corrugated sheet always remain fresh and is capable of screening off the UV ray within 400nm harmful to human health.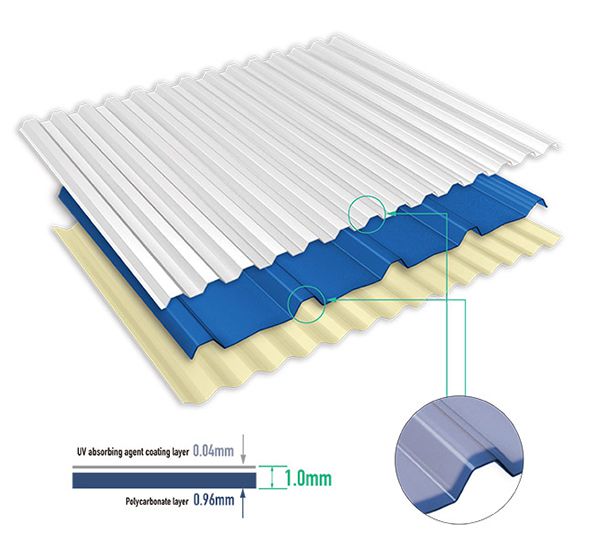 Specification
NO.
Profile
Thickness
(mm)
Pitch
(mm)
Depth
(mm)
Width
(mm)
Effective Width (mm)
L1
0.8 ~ 2.0
190
26
820
760
LIGH TRANSMITTANCE
| Color | Color Code | Light Transmittance | Diffusion | Parallet Light Transmittance | Haze |
| --- | --- | --- | --- | --- | --- |
| Clear | CL001 | 91.67% | 0.74% | 88.93% | 0.83% |
| Bronze | BZ001 | 36.69% | 1.41% | 35.28% | 3.85% |
| Bronze | BZ002 | 37.75% | 1.11% | 36.64% | 2.94% |
| Bronze | BZ003 | N/A | N/A | N/A | N/A |
| Grey | GE001 | 40.29% | 1.41% | 38.89% | 3.49% |
| Grey | GE002 | 13.94% | 0.12% | 13.81% | 0.89% |
| Grey | GE003 | 19.98% | 0.66% | 19.31% | 3.32% |
| Opal | OP001 | 44.17% | 43.86% | 0.3% | 99.32% |
| Green | GR001 | 53.61% | 2.19% | 51.43% | 4.08% |
| Blue | BL001 | 25.2% | 2.17% | 23.03% | 8.61% |
| Pearl | PR001 | 25.55% | 25.27% | 0.28% | 98.92% |
| Sliver | SL001 | 13.65% | 11.01% | 2.64% | 80.68% |
| Cream | CM001 | 30.69% | 30.46% | 0.23% | 99.25% |
| Claret | CT001 | N/A | N/A | N/A | N/A |
| Soft White/Diffused | WD001 | 89.01% | 72.89% | 0.68% | 97.92% |
| Clear/Embossed | CL001 | 89.66% | N/A | N/A | 84.11% |
CONTACT FORM