LYON PLASTIC

ABOUT LYON
About LYON -

Best Polycarbonate Corrugated Sheet Manufacturer
Top Choice Polycarbonate Corrugated Sheet
Launched in 1994, Lyon Plastics Co., Ltd., is a professional corrugated polycarbonate sheet manufacturer whose products are trusted around the globe.
Lyon Plastics is experienced in the design, production, merchandising, and related services of polycarbonate corrugated sheet and supplies tailor-made product solutions to the construction, architecture, agriculture, OEM and DIY markets. Under global administration, Lyon Plastic's high-quality polycarbonate corrugated sheet or PP corrugated panel are trusted by and sold to more than 30 countries including the United States, Japan, Germany, Australia, New Zealand, and Central America.
With polycarbonate corrugated sheet's quality meeting or exceeding industry standards, Lyon Plastics has developed more than 60 different corrugated polycarbonate profiles. Lyons core product characteristics include high light transmittance, heat insulation, UV-absorption, and fire retardant properties.
Lyon Plastics' wide variety of polycarbonate skylight, polycarbonate roofing products and services are easily accessible to global clients via marketing channels in Asia, America, Europe, and other emerging markets.
Virgin resin, such as SABIC and CHIMEI, is used to develop crack-proof corrugated polycarbonate sheets. Our high-quality, high-stability, polycarbonate corrugated sheet products are extruded to meet or exceed industry standards by combining the physical features of plastic materials under high temperatures. Customized polycarbonate corrugated sheet and polycarbonate skylight or roofing products are available by special order.

At Lyon Plastics, we believe it is important to offer product options in regards to cost, quality, and function. In terms of cost savings, corrugated polycarbonate sheets can also be manufactured using recycled materials with the option to add specific additives such as UV-coatings, fire retardant, etc. as necessary.
Manufacturing |
Hourly
Checks
Experienced in the production of corrugated polycarbonate sheets, Lyon Plastics knows the physical features of plastics well, holding their product defect rate at nearly 0%. Strict quality control (QC) is maintained over the wave size – the expansion and shrinkage of the waves – via cooling. In addition to hourly checks for extrusion stability during the manufacturing process, Lyon Plastics uses the US QUV accelerated weathering tester to determine the yellowing level of the sheets in 72 hours. The yellowing degree equals the "worn-out" level of the finished product outdoors under direct sunlight, rainfall and dew.
Over
60
Profiles Available
Lyon Plastics has successfully developed over 60 different profiles for polycarbonate corrugated sheet. This was achieved by combining theory and practice with our high-performance, co-extrusion machinery made in Japan. The co-extrusion production process includes an advanced UV-protective coating which is available on all of our polycarbonate corrugated sheet and corrugated polycarbonate sheets.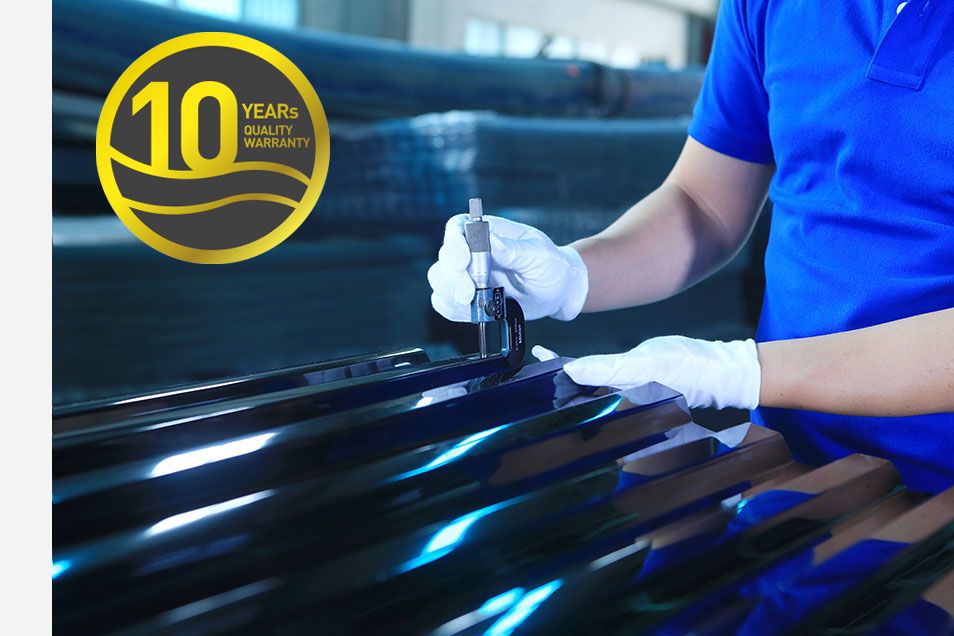 Our Promise |
10
Year Product Lifecycle
Lyon Plastics' polycarbonate corrugated sheet and other products feature an advanced UV-protective coating. This UV-protection guards the polycarbonate corrugated sheets from the effects of long-term exposure to direct sunlight, protecting the corrugated sheet from yellowing and deterioration. The sheets are also tested to be crack-proof under the wind scale of 12.
Product Features:
Surface Yellowing Level: The figures of the yellowing level after delivery and 5 years under ASTM DI1925 are not more than 3 and not more than 10 respectively.
UV-Protective Coating: The coating value under co-extrusion of 12% high-temperature UV protection is 40 um.
UV-Resistance: The wavelength of UV transmittance is not more than 2.4%.
Transmittance: The figures of total light transmittance shall be 90% of the origins under ASTM D1003.